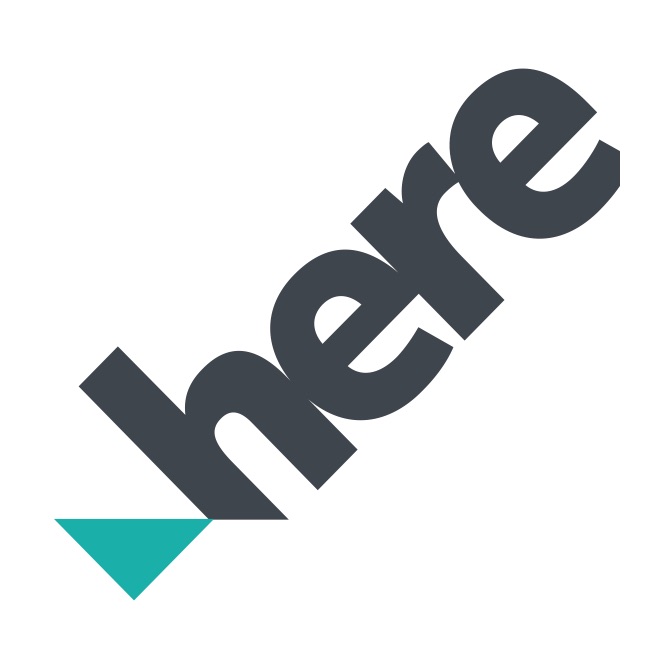 HERE Technologies deploys TermWeb to localize geo-location terminology.
HERE Technologies is a global company offering mapping and location solutions to a wide range of industries. HERE supplies digitized maps that are used in over 150 million vehicles around the world. Expanding the HERE business into markets such as Japan and other countries in South East Asia means reaching out to both business customers and consumers in their language. Additional localization work was urgently required.
"Interverbum Technology was the partner of choice to get this done," says the Internationalization team at HERE. "It offers TermWeb — the state-of-the art terminology management software — as well as the professional consulting and support services needed to get the system up and running quickly."
HERE Technologies originated in the USA as NAVTEQ in 1985. A pioneer in location data, its digitized maps were used in millions of vehicles long before Google Maps was launched. Today, with over 9,000 employees across 56 countries, HERE offers global location solutions — not only digitized maps and in-car navigation systems but also location-related applications for a range of industries such as logistics. HERE's platform enables customers to use location tools and access critical data in an open, secure environment. The Strategy Analytics Report* ranks HERE as the best location software platform, followed by Google, TomTom and Mapbox. The platform provides data from over 100,000 sources through 80 billion API calls every month.
In Europe four out of every five vehicles are equipped with HERE's GPS-connected maps. Not surprisingly large automakers such as Daimler, BMW and Audi as well as NTT (a Japanese telecommunications company) and Mitsubishi Corporation are large shareholders in HERE.
TermWeb facilitates localized global expansion
With the global expansion of HERE into Japan and other South East Asian markets, the need for a more versatile and sophisticated management of corporate communications, product information and marketing in several new languages became apparent. The decision was made to localize the corporate homepage and other key content from English into Japanese and soon some other languages. Thousands of specialized HERE terms needed to be translated into Japanese and other languages, verified, and quickly and easily used for translating a wide range of collateral.
This was a challenge and something that Ayako Suzuki and her colleagues in the Internationalization and Documentation Services understood would need a flexible state-of-the-art terminology management tool, but also highly qualified terminology expertise.
"For us TermWeb was the obvious choice," says Ayako. "TermWeb has it all. It is very flexible with lots of options for integrations and customization to our unique needs."
Ayako continues, "First, TermWeb licenses can be integrated in our company's intranet which gives employees the convenience of automatic login to the terminology system. It's fast and very effective. Secondly, TermWeb has a smart API, which means you can integrate it with other enterprise tools and systems. And third, there is a big plus: Interverbum offers consulting services and advisory professional expertise from experienced terminology experts."
Terminology management as a practice is a specialized and highly technical part of enterprise content management. It requires special skills and knowledge, but yet it is fundamental to any company wanting to communicate effectively to customers around the globe.
"We needed professional advice to set up our databases, connect them to other systems, and implement sustainable processes for our global terminology work. We couldn't have done that ourselves," says Ayako.
"Interverbum arranged for Kara Warburton to provide us with consulting services. A well-known terminology expert, Kara has both an academic background in terminology and vast experience in large corporations. And on top of all – she is familiar with TermWeb," says Ayako.
"It was a huge advantage, for HERE, to get all of this in one package from Interverbum," says Ayako.
HERE kicked off internal discussions about starting a terminology initiative in autumn 2020. Ayako says with Kara's help the team will be able to launch their TermWeb database to all employees in the summer of 2021.
Want to know more about HERE ?
*The Strategy Analytics Report is an annual report about global location solutions companies. It compares Google, HERE, Mapbox and TomTom across capabilities like map making, meeting automotive industry needs, map and data visualization, and the ability to appeal to developers, among others. HERE demonstrates strength and leadership across most attributes, followed closely by Google, then TomTom and Mapbox.
See TermWeb in action! Ask us for a live demo.