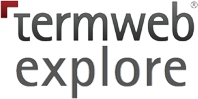 Powerful and accessible

Are you using Excel spreadsheets for managing your terminology and finding it increasingly difficult to track and maintain it? Are you looking for an easy, yet powerful—and cost-effective—terminology management tool to start working on and sharing your termbase? If you are an educational institution or a small/medium-sized company, then TermWebExplore might be just what you're looking for.
TermWebExplore is a compact, subscription-based term management tool that has everything you need to explore and experiment with term management for your organization. You can also access it via your web browser, which means no need for any installations. Best of all, you can start working with your terminology within minutes.
Flexible subscription model
Your subscription can be upgraded at any time to TermWeb on your request. Such an upgrade will get you even more licenses, the option to install on your local server and integrate the software with other tools such as SDL Trados Studio, MS Office and more. You even have the ability to customize the length of your subscription—sign up for a full year or pay as you go every 3 months.
Browser-based
Stay up to date while on the go. TermWebExplore is completely web-based, which allows for easy access to your database from any location in the world, as well as complete interoperability in any computing environment.
Full list of features
Utilize the same robust features you'd find in our full TermWeb product to create, track and change the contents of glossaries, dictionaries and termbases unique to your organization. Search for terms, add entries, view term histories, track changes, revert to a previous version and more.
Easy import/export
TermWebExplore provides you with a variety of options for turning your standardized database files into robust, online termbases. Just import via Microsoft Excel, Microsoft Word or TBX-formatted XML file and you're ready to go.
Full administrative control
Take advantage of a full suite of administrative controls to ensure your database functions to your exact specifications. Designate up to 5 named administrators with full permissions and up to 3 concurrent read-only users; create custom, automated workflows; and set up advanced permission controls—all from an easily accessible administrator dashboard.
See if TermWebExplore is right for you!